If you're having a baby, it's natural to want the hospital where you plan to deliver to be baby friendly. But there's more to that than being welcoming and providing good care.
A truly baby-friendly hospital has a "baby first" culture, supported by practices that are implemented by every team member, all designed to support both baby and mom, with particular emphasis on helping babies get the superior nutrition they need through breastfeeding.
Orlando Health Winnie Palmer Hospital for Women & Babies earned the international recognition as a Baby-Friendly birth facility — one that provides the optimum level of care for breastfeeding moms and babies.
Becoming Baby Friendly
The Baby-Friendly designation is an initiative sponsored by the World Health Organization (WHO) and the United Nations Children's Fund (UNICEF). To earn the designation, hospitals must use evidence-based practices that help moms recognize their babies' feeding cues. Practices such as having the baby go skin-to-skin with mom immediately following delivery, keeping moms and infants together 24 hours a day, or feeding the baby on demand versus a schedule are strategies that lead to a better breastfeeding outcome.
For the past three years, Winnie Palmer Hospital for Women & Babies has implemented Baby-Friendly practices that spanned the hospital and involved every team member. Whether a nurse, administrator, physician or cafeteria worker, all received education on the benefits of breastfeeding and how hospital practices support it.
Together, the team at Winnie Palmer Hospital for Women & Babies implemented the Ten Steps to Successful Breastfeeding, which forms the basis of the Baby-Friendly Hospital initiative. To be designated as Baby-Friendly, every facility providing maternity services and care for newborn infants needs to:
Have a written breastfeeding policy that is routinely communicated to all healthcare staff.
Train all healthcare staff in the skills necessary to implement this policy.
Inform all pregnant women about the benefits and management of breastfeeding.
Help mothers initiate breastfeeding within one hour of delivery.
Show mothers how to breastfeed and how to maintain lactation even if they are separated from their infants.
Provide infants only breastmilk, unless other food or drink is medically indicated.
Practice rooming-in, which allows mothers and infants to remain together 24 hours a day.
Encourage breastfeeding on demand.
Give no pacifiers or artificial nipples to breastfeeding infants.
Establish breastfeeding support groups and refer mothers to them upon discharge.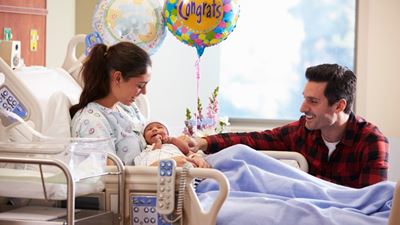 Winnie Palmer Hospital for Women & Babies also changed its practices following the baby's birth. With around-the-clock rooming-in, more care is delivered at the bedside instead of in the nursery, including the first bath and administering vaccinations. This way, a mom can continue bonding with her newborn and provide comfort during these new experiences.
This closeness also helps mom learn to respond to the baby's feeding cues. In the past, moms were told to feed their newborns every two to three hours. Recognizing that babies get hungry on different schedules, doctors now advise feeding on demand or whenever the baby displays hunger cues, such as licking, smacking or rooting around. This way, moms can breastfeed before their baby begins to cry from hunger.
Focusing on Successful Breastfeeding, but Supporting Your Choices
Ninety percent of moms who plan to deliver at Winnie Palmer Hospital for Women & Babies say they plan to breastfeed their babies, and 80 percent say they want to breastfeed exclusively. Numerous studies site the benefits of breastfeeding for both mom and baby, but not everyone wants to or is able to breastfeed. We support all moms and their choices, and want to provide you with the education needed to make the best decisions.
For more information about our Baby-Friendly culture, contact us at Orlando Health Winnie Palmer Hospital for Women & Babies.